Custom Telemedicine Solution Suitable For All Healthcare Providers
Manage the multiple aspects of healthcare operations on a single platform.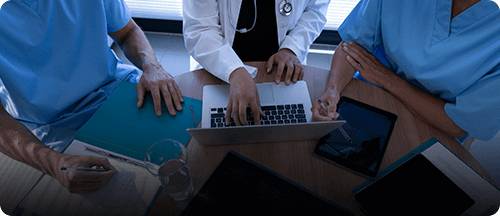 Hospitals and Healthcare Centers
Improve Patient Satisfaction and Outcomes
Create a more personalized experience and improve patient outcomes with telemedicine software for hospitals.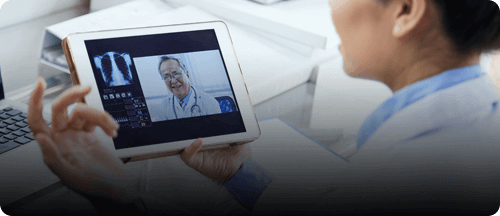 Clinics and Individual Practitioners
Offer Physician Video Call Consultation
Reduce your patients' in-person follow-ups and help them connect with your physicians virtually through a telemedicine app.
Accelerate Medical Testing Process and Boost the Productivity of Your Healthcare Workforce with Digital Scanning Technology
Restructure the entire medical testing process - easily capture patient data such as patient ID, clinical notes, specimen data, and link to correct the patient record, export, or print the captured data via email using smart devices only.
Your browser does not support HTML video.

Scan any barcode or QR code on specimen collection tubes safely and without any error.
Get rid of manual data entry of medical tests and patient data.
Easy to integrate Scandit proven digital scanning technology in our HIPAA compliant telemedicine solution.
Streamline as well as simplify testing process either in-house or on-field with a mobile scanning app.
Capture, collect, and store data via smartphones in the patient record.
And a lot more to assist your healthcare team.
How It Works?
Patient
Requests on-demand consultation with a doctor (video, audio, or text).
Provider
Serves the patient's needs online via the chosen channel.
Platform Admin
Administers all appointments and transactions happenings via the platform.
MyHouseCall, Telemedicine, Healthcare
Learn how we helped our client build a novel telemedicine solution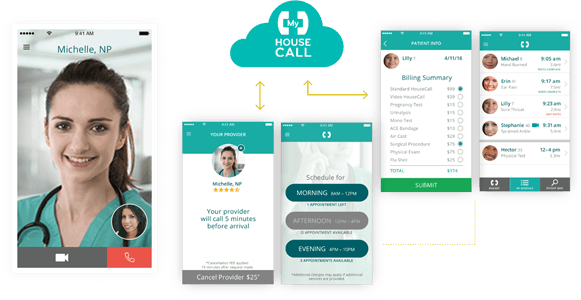 Provide Quality Online Healthcare Services To People of All Categories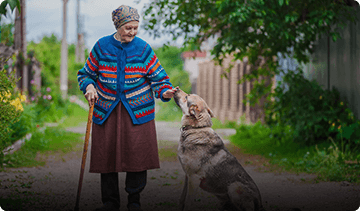 Rural Population
Help people from rural and far-off areas get remote health services without spending on physical medical infrastructure and doctors.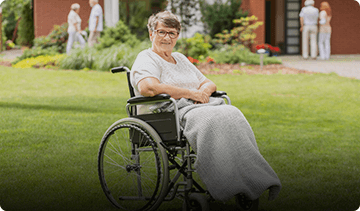 Physically Disabled
Empower people who find it physically challenged to make a personal visit to a doctor or hospital.
Make Healthcare Accessible And Affordable With A HIPAA Compliant Telehealth Platform
We help you take the first step towards your own telehealth business and make quality healthcare available to everyone.
Key Benefits Of Our Telemedicine Software Solution
Our open source telemedicine platform comes with several key advantages that make it suited for diversified client needs.
White Label & Customizable
A fully branded app with the option for new features, integrations, and enhancements as per your requirements.
Save Time & Money
Our telemedicine app developers will help you get started quickly with your idea.
Your Own Model
Building a telemedicine app can be done in multiple ways and we work with you to build it the way you want.
HIPAA Compliant
All information shared and stored within the system is fully encrypted as per HIPAA requirements.
Native Experiences
The solution includes native telemedicine apps for iOS and Android for a seamless experience.
Amazing UI/UX
The app and the web admin panel have been thoughtfully designed for an intuitive experience.
Go Global
We provide support for your preferred payment gateways with multi-currency support for global reach.
Robust & Scalable
We have used a powerful technology stack for a highly scalable telemedicine platform.
Full Support
We will work closely with you from finalizing the solution requirements to post-launch support.
Explore Other Digital Health Solutions
We offer a wide range of healthcare solutions for hospitals, healthcare providers, and startups. Check out some of the highlights.