Providing Customized Digital Pass Solution
Simply receive a QR code on your mobile app or through e-mail or SMS, and scan it on the police officer's module to get your digital pass validated.
How It Works For Citizens?
Fill up the application form using a mobile app or website.
Officials will validate the request and grant the digital pass.
Citizens will receive the digital pass - a QR code on a mobile app, email, SMS.
Police officers can scan the QR code and validate the digital pass.
Solution Overview
An exclusive white-labeled e-pass solution for uninterrupted flow of essential services in the case of an emergency such as curfew or lockdown.
Provide Easy Access To Digital Passes For Your Users During Emergencies
We develop a blend of innovation and simplicity to provide an easy digital pass platform for your users.
Key Features
Hassle-free Access to Passes
Allows the users to simplify the essential activities in difficult times by simply accessing the solution in their smart devices.
Robust and Scalable
The solution is developed, keeping in mind customer satisfaction and ROI for clients, both. It allows all the updates to stay in sync with the current present market condition.
User-Friendly Interface
Each module is developed with a minimalistic approach in mind, to make the process of registration and navigation easy for the users.
Completely Digital
Solution is completely automated to save users from going through hassles of approval from higher officials in-person.
Security and Privacy
User security is our topmost priority, and thus, extra care is invested to secure the solution from hackers and viruses.
Easy Registration
Registration process to avail the mobile phone passes is simple and precise.
Why Choose Our Digital Pass Solution?
With our team of experts, we strive to provide the best e-pass solution to our clients
Fully Customizable
Customize your digital pass solution to meet the specific needs of your users.
Robust Registration Engine
The solution offers a highly scalable and reliable registration experience for customers.
Service and Maintenance
Help our clients with an end-to-end solution to deploy the digital pass solution.
Completely Branded Solution
A distinct solution in the urgent times to have an uninterrupted flow of essential activities.
Improved Data And Security Control
Safeguarded with the latest innovations to protect the user data and save it for future purposes.
Privately Hosted
The solution is privately hosted on a single server for better performance and scalability.
Flexibility With Customization And Integration
A well-integrated and highly customizable solution for the clients with all the advanced features and requirements.
Implementation & Launch
We build a customizable model for private and government organizations to create their own version of the digital pass solution.
Requirement Analysis
Understand and create an execution plan based on the client's requirements.
Deployment Choice
On-premise or cloud deployment option as per the business requirements.
Notifications Integration
Push notifications, email, and SMS alert set up.
Analytics Integration
Support for integration with popular analytics platforms.
App Store Submissions
Successfully publishing the apps on Google Play Store and Apple App Store.
Support & Maintenance
Launch a dedicated and expert technical support for the smooth operations.
Security Compliance Check
Full data security audit to meet regulations and compliance standards.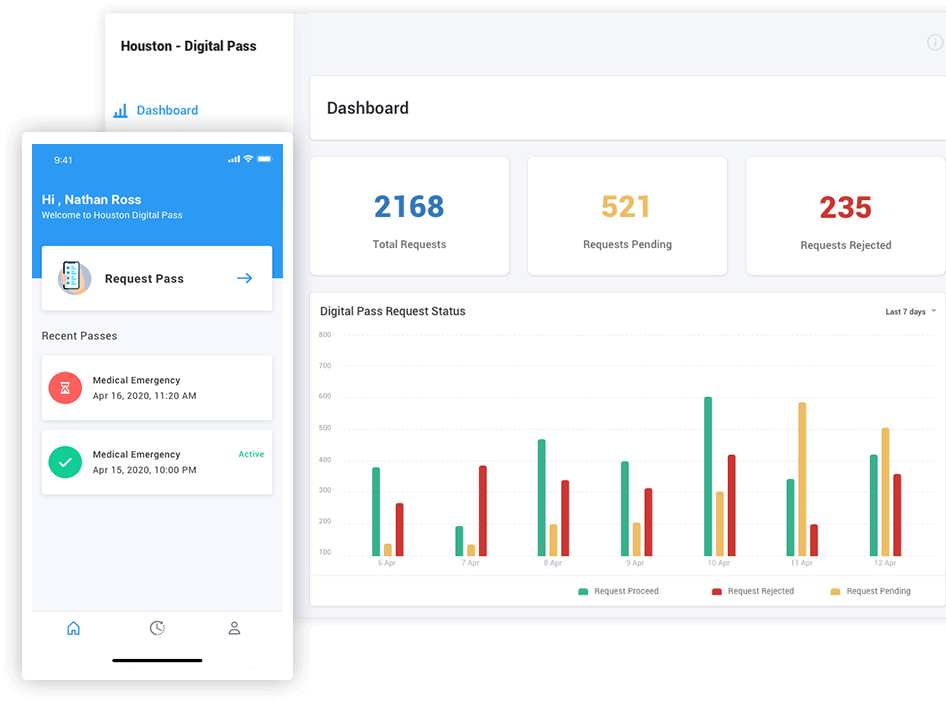 Explore Our Other Digital Solutions
We offer a wide range of digital solutions for different industries. Check out some of the highlights.